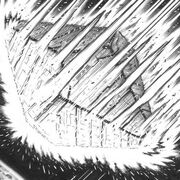 Joint Superteam Space Station 3, also known as the d10, is a space station in low Earth orbit used by superheroes.
One end of the station is a hub for the Lotus Nodes portal network; the other contains an emergency escape portal. Although the station is frequently used as a staging point for superheroes, the only permanent resident is Mindfuck, who remains in orbit in order to distance herself from others' thoughts.
In Say That I Deserve This, the supervillain Willy Pete pumps an immense ammount of heat into the space station through one of the Lotus Nodes. The station is severely damaged, and soon falls out of orbit and disintegrates in the atmosphere.
"d10" is a common role-playing game term for a ten-sided die, which the station resembles. Specifically, it is a pentagonal trapezohedron.
Community content is available under
CC-BY-SA
unless otherwise noted.