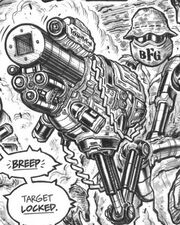 The B.F.Gunnaz are a group of villains who are armed with large guns rented from Teknofetish.
The B.F.Gunnaz appear in Ten Questions for the Maidman. They corner Empowered, but she says that Maidman is behind them. When they turn around, Emp destroys their guns with vorps.
The group's name is a reference to the BFG-9000 from the video game Doom.
Community content is available under
CC-BY-SA
unless otherwise noted.